With EHS Insight users have the ability to scan QR codes in order to quickly identify an item. In order to take full advantage of this feature, you will need to ensure that your QR codes have been properly created and displayed on an item.

Creating the QR Code

In order to create a QR code:
Locate a QR code generator. While there are many, we recommend using MyAssetTag.com. This site allows you to design and print your own QR asset tags using their design wizard or by using one of their provided templates.


Hover over the Asset Tags & Labels menu and select the QR Asset Tags option.


Select the template that best fits your needs.


Using the design wizard, enter your text and choose the font and font size if needed.


Select the QR Code radio button and then select the Consecutive Number option. This option allows digits to appear on the tag and each tag will then get its own unique QR code (0001, 0002, etc.). While there are many options available, we recommend adding a Prefix to your QR code. As shown in the example below, we have started our asset tag with the AAAA Prefix (AAAA0001). In doing so, this allows us to create consecutive tags for our assets categorized in the AAAA series (AAAA0001, AAAA0002, etc). We can then create a new series of asset tags with the AAAB Prefix and start our consecutive numbering from the beginning (AAAB0001, AAAB0002, etc).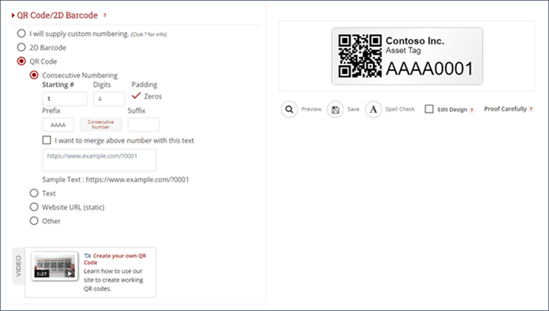 Printing the QR Code

You have two options within MyAssetTag.com to print your QR code:
Print on Your Own Computer: Downloads a PDF file on your computer for self-printing
Get it Printed by Us: Work with MyAssetTag.com for printing