At many organizations - where daily operations involve performing hazardous or complex jobs by their employees - managing the procedures to perform each job safely and accurately is of critical importance. This consistency and forethought helps avoid workplace accidents and ensures that employees are well-informed and well-prepared to do their jobs. Typically, this is accomplished through detailed sets of Work Instructions, laid out on a per-job basis.
Often times, these Work Instructions live on at each facility being maintained in paper copies and updated anecdotally as equipment is changed out or as environmental factors at the site change. The specific knowledge is maintained only within the heads of the subject matter experts at each facility and is shared with new hires as-needed. For a larger organization, this makes managing processes and safety very difficult from a corporate HSE standpoint. Each facility may be performing the same job in a slightly different fashion – or in the case of operating in another country – using an entirely different set of steps. Job sites start to become information siloes without sharing their experience in a way that could benefit the entire organization.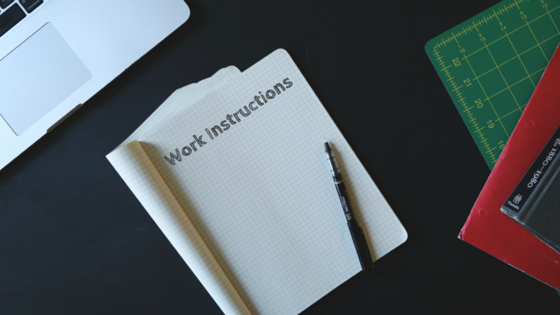 Employing an EHS software system can be a perfect aid in solving many of the technical challenges associated with managing work instructions within an organization. Some of the many potential benefits include:
Having a single, centralized job list, potentially categorized (i.e. "Drilling", "Maintenance", "Subsea") as a reference for Work Instructions that do or don't exist already
Allowing one facility to use another facility's existing Work Instructions as a template when performing a new job, rather than trying to create their own from scratch
Maintaining a corporate-level "Best Management Practice" for a set of common jobs. This can be used to specify things like required personal protective equipment (PPE), a set of positions (personnel) needed to perform a job, and the job steps themselves (along with risk assessments, controls, descriptions, hazard analysis and photographs). The corporate level BMP then becomes a template for all facilities performing the job outlined by these Work Instructions.
Allowing facilities to customize the best management practice Work Instructions for their particular needs while still locking down vital safety equipment and mandatory job steps.
Housing multiple language translations for the same job in a common place. This can ensure that, regardless of the locale, a job process and its associated risks are being followed and accounted for similarly
Helping put a process in place to perform a pre-job review, using the latest BMP and facility Work Instructions, so the designated crew gets the information they need to be safe, efficient and consistent.
Giving management the ability to report on the ties between best management practices, facility-level work instructions and pre-job reviews, as well as tying them into potential incident occurrences (injuries, environmental, near miss) and investigations.
In short, EHS software helps organizations efficiently manage collection of work instructions while ensuring measurable improvements in process, consistency and safety.