NFL players continue to raise concerns about their health and safety.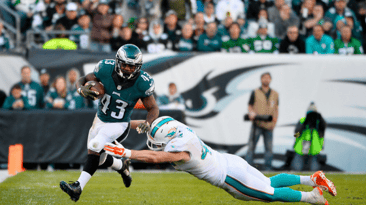 Photo by Alex Goodlett/Getty Images
In a recent survey from USA Today, 108 players answered questions about the issues facing the league. The most common response (39 percent of participants) was health and safety – including concerns about chronic traumatic encephalopathy (CTE).
Those 108 players only represent about 6 percent of the league. But many of them feel that their peers would agree.
"Trying to figure out more about CTE and making sure that we try to adjust the system and the way you play, so we can protect ourselves," Jaguars defensive end Calais Campbell said. "Just get as much information as we can. They can do more to protect defensive guys, too. But the fact that they're thinking about it is a start."
The 2017 season definitely saw its fair share of significant injuries. Perhaps the most serious of which was Steeler's linebacker Ryan Shazier. He's still in a wheelchair after suffering a spinal injury during Week 13.
Jaguars wide receiver, Marqise Lee, shares his viewpoint. "We're out here taking shots. Crazy shots."
For him (and likely a few others), the issues around health and safety are tied to other problems in the league. Primarily, money.
"You might say player safety, but you can go with bread," he says. "The biggest aspect is guaranteed bread."
"For [Shazier] not to have as much guaranteed bread is ridiculous," Lee said. "You know what they're going to hit you with: 'You've got more players in football.' But look at the money [the NFL] makes every year."
From the survey, compensation pulled 18 percent of the votes for biggest issues in the league.
Social issues drew another 18 percent.
Other issues mentioned were television ratings, growing the game, and communication between the league and players. Officiating, player discipline, and fines also came up. Players also noted the frustrations with the size of practice squads.
Eagles tight end Brent Celek had an interesting suggestion for solving some of these problems: shorten the regular season to 14 games.
"In the long run, this game is all about matchups, and the fewer amount of games, the matchups mean more," he said. "I think that'll make it more popular in the long run."
Of course, it's not likely that'll happen any time soon. Two less games is a significant dip in league revenue.
There seems to be quite a list of concerns from these NFL players. But the main one is their ability to function and live a normal lifestyle once they've finished playing the game.