Sustainability reports contain information compiled by organizations that address the environmental and social effects of business and operational outputs. A well-designed sustainability report is one of the main ways for businesses to provide transparency in terms of operational impact.
Why Should Your Business Commit to Reporting?
When your business implements an effective sustainability reporting cycle, the benefits will be realized both internally and externally. Reporting should include data collection, communications and stakeholder feedback.
Internal Benefits
Your business will benefit from sustainability reporting through an increased understanding of both risks and opportunities. As the saying goes, "What gets measured, gets managed." Your business will be equipped to develop long term EHS initiatives and policies that are more strategic and in-line with the corporate vision. Reporting will also allow your business units to operate more efficiently by streamlining processes to reduce environmental related costs. By identifying positive and negative impacts, your business will have actual data in order to benchmark against other organizations or sectors. When your business reports, you are now protected from implications of social or environmental failures. A Harvard Business Review article discusses the fact that when businesses are identified as socially responsible institutions with clearly defined missions, they become "great" businesses, attract business relationships as well as high value employees.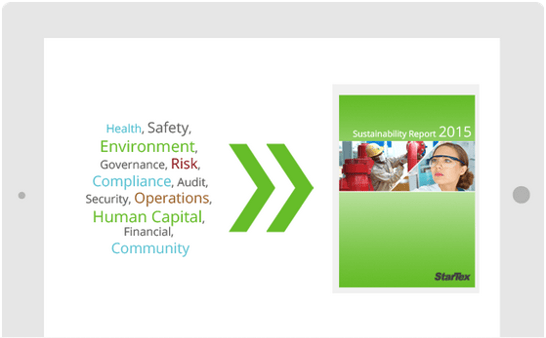 External Benefits
All businesses, especially those with missions involving environmental, social or governance impact, can improve their reputation and brand loyalty with consistent sustainability reports. Transparent reporting shows the true value of your organization instills investor confidence.
How Can Your Business Establish Reporting Processes?
Planning
Identify the right team that will be responsible for coordinating the process
Provide the team with resources needed to understand sustainability standards
Collect Input
Identify key stakeholders that will provide feedback on the main points of the report
Develop methods of communication with stakeholders
Define the Report Contents
Identify the range of sustainability topics and metrics that are relevant to your company
Narrow the list and prioritize the most important to your values and mission
Your organization's senior decision makers should meet to make the final decision about the report contents
Build Your Report
Develop internal systems for reporting
Establish the targets for reporting and the methods of data collection
Establish procedures to achieve and maintain consistency
Report
Decide how the report will be presented and in what context
Gather additional feedback on the process
Sustainability software helps create transparent and insightful reports. Request a demo today for more information.