If you grew up watching the Three Stooges, chances are you're familiar with their physical humor – over exaggerated and slapstick comedy. In almost every episode, Moe, Larry, and Curly (Stooges) played the roles of blue-collar laborers. From construction and plumbing to painting and welding, the Stooges did it all.
Of course things never went as planned for the Stooges, so they often relied on shortcuts to get their jobs done. Due to their down-on-luck nature (and carelessness), Moe, Larry, and Curly always experienced "near misses." Misuse of large machinery, horse playing while using sharp tools, and slaps to the face led to injuries and were the result of poor safety standards.
If anything, the Stooges did teach us a thing or two about safety. They taught us patience. They taught us to remain cautious of our surroundings, and to put together a safety plan. At the end of the day, every business should have an environmental, health and safety (EHS) program in place. The road to compliance shouldn't be a challenging one. EHS software can help organizations become more effective at managing and achieving compliance.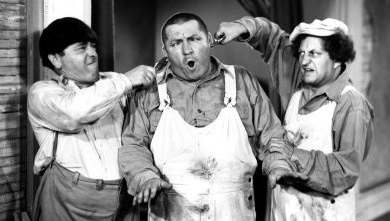 The Three Stooges
Moe, being the leader of the gang, could have benefited from EHS software. You see, with software, the Stooges would have been able to:
Easily record, manage and analyze falls, trips, slaps, smacks, head conks, eye pokes, nose honks, and pies to the face to prevent future incidents
Create presentation-ready reports of EHS performance to identify leading and lagging KPIs
Use offline reporting capabilities to submit forms even without network connectivity
Accurately monitor and measure the costs of health-related issues like hearing loss due to ear tugging
Reduce downtime by providing managers with resources to improve employee performance
Achieve compliance and a sustainable business
We wonder how many fines OSHA would have given the Three Stooges. Check out how EHS software can help you become more compliant.