We all know that an integrated safety and sustainability program can lead to organization-wide positive change. But here's a shining example of how such EHS programs in action can impact employees and the community. Thanks to Caterpillar, we have hard figures on how personal safety incidents can be reduced after an organization-wide change in safety mindset.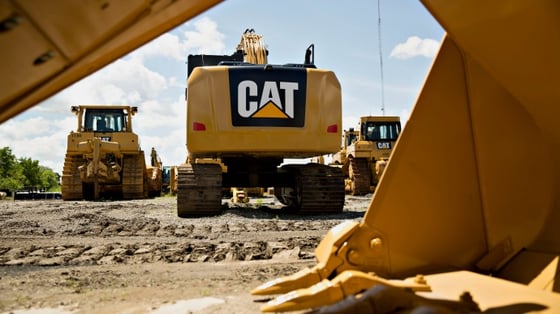 Photograph by Daniel Acker — Bloomberg via Getty Images
For industry giant Caterpillar, it took nothing less than a cultural shift to break through its previous safety record and show improvements in its Reportable Injury Frequency (RIF) metrics.
The Mapleton Facility Was Already Dedicated to Safety
Caterpillar's Cast Metals Organization in Mapleton, Illinois had a good record with RIF, but it was increasingly difficult to show improvement in year-over-year comparisons. In essence, the company had "plateaued" with its safety record.
But, being Caterpillar employees, they didn't want to leave it at that. Safety and sustainability are a key component of the company's famed success, so the Mapleton facility looked for ways to break through the ceiling of safety performance metrics limiting their progress.
In 2012, Caterpillar initiated a facility-wide shift in how they viewed safety.

A Culture Shift Allowed Caterpillar to Improve Its Safety Record
There are nearly 600 employees at the Mapleton facility, and each one took an active role in addressing safety from a new perspective. Rather than seeing safety as the absence of injuries, they instead focused on creating 'the presence of safety'.
In a press release, Doug Oberhelman, Caterpillar Chairman and CEO, spoke about the company's commitment to sustainability. "Caterpillar continues to seize opportunities to make our products and operations more sustainable and efficient. We remain committed to sustainability because we want to help build a better world, and because we know it is essential for profitability in our operations and our customers'."
In short, safety became the defining theme of operations. Employees were tasked with thinking of safety as a culture, and viewing the environment in a holistic manner.
And how exactly did they accomplish this? For one, safety communication is greatly enhanced when you have the right EHS process in place. For Caterpillar, this allowed it to instill its "Star Green Card" safety program, which allowed all employees to document when they identified and fixed a safety risk.
Learning from their new culture of safety, the Mapleton facility was able to reduce its injury rate by 18.3% in just one year in 2015.