North America to Align with GHS
The coming year 2015 marks an important change for companies that use, distribute, or import hazardous chemicals. The Globally Harmonized System of Classification and Labeling of Chemicals (GHS) has already been adopted by many countries, and is now being implemented in the United States by the Occupational Safety and Health Administration (OSHA). As part of OSHA's new Hazard Communication Standard, the United States is being brought into alignment with the GHS to improve the health and safety of America's workers.
What does the change entail?
Hazard Classification – The updated standard requires specific criteria be provided to address health and physical hazards, along with classification of chemical mixtures
Labels – Standardized, international labeling from chemical manufacturers that includes a signal word, hazard statement and precautionary statement
Safety Data Sheets (SDS) – An improvement over MSDS with 16 required sections to ensure consistency
Information and Training – The deadline for employee training was December 1, 2013. Moving forward, employers must continue to provide training on any new label elements and updated hazard communication programs if new hazards are identified.
Hazard Communication Standard Pictogram
As of June 1, 2015, the Hazard Communication Standard (HCS) will require pictograms on labels to alert users of the chemical hazards to which they may be exposed. Each pictogram consists of a symbol on a white background framed within a red border and represents a distinct hazard(s). The pictogram on the label is determined by the chemical hazard classification, as can bee seen on the following diagram.
HCS Pictograms and Hazards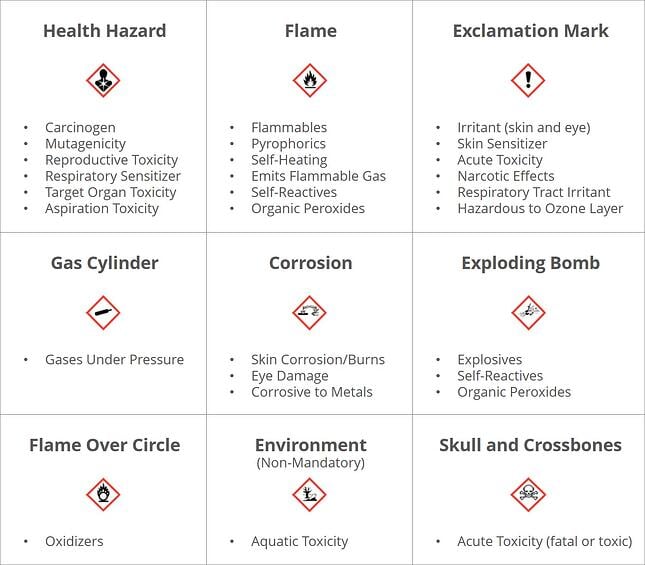 How does this affect your business?
An employer using hazardous chemicals, is are required to continuously update safety data sheets (SDS) when new versions become available.
As a chemical producer, you are required to continuously review hazard information for all chemicals produced or imported, classify chemicals according to the new classification criteria, and update labels and safety data sheets (SDS).
Important Deadlines
June 1, 2015 – Chemical manufacturers, importers, distributors and employers must comply with all modified provisions of this final rule, except:
December 1, 2015 – Distributors may ship products labeled by manufacturers under the old system until this date.
June 1, 2016 – Employers must updated alternative workplace labeling and hazard communication program as necessary, and provide additional employee training for newly identified physical or health hazards.
Transition Period – All chemical manufacturers, importers, distributors and employers must comply with either 29 CFR 1910.1200 (this final standard), or the current standard, or both.
Read the full Hazard Communication Standard Final Rule at https://www.osha.gov/dsg/hazcom/HCSFactsheet.html