Ecolab plays a major role in solving global challenges that revolve around natural resources, but how does its safety program impact its own employees?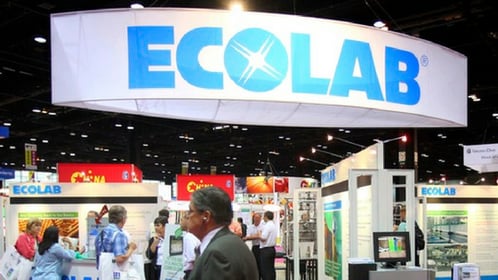 Photograph by Daniel Acker — Bloomberg
How often does your company assess safety performance? At Ecolab, that occurs every month. Its systems are capable of helping them identify not only the current risks in their processes, but also potential areas of concern as well.
Not only that, but Ecolab's robust tracking capability allows it to hone in on areas that need the most attention. Finally, it's able to actually measure the effectiveness of all its safety initiatives.
So, What are the Results of These Increased Capabilities at Ecolab?
As a result of their safety program, the leadership team at Ecolab has managed an impressive improvement in two major safety metrics.
First, the Total Vehicle Accident Rate has dropped since 2014. In just one year, the company reduced that rate from 3.09 per million to 3.06 per million.
That's a 35 percent reduction since 2012.
Similarly, Ecolab's Total Recordable Injury Rate (TRIR) has dropped 23 percent since 2012. During the year from 2014 to 2015, the number per 100 employees dropped from 1.55 to 1.42. That translates to a negative 8.4 percent year over year reduction in the TRIR.
How Was It Done?
What's the secret? One of the keys to Ecolab's safety program success is its ability to be proactive with every aspect of the program. Employees actively seek out risk at each and every one of their facilities in order to address safety problems before they occur.
Being able to juggle large pools of data is part of the equation: Ecolab logged more than 82,000 safety observations in 2015 alone. The company also completed 35 percent more safety audits in 2015 than they had in the previous year.
Knowing how to assess all that data is another part of the equation. Finally, knowing how to act on the implications of data analysis is the final piece of the safety puzzle.
As a result of its program success, Ecolab was named to the 2016 Dow Jones Sustainability North America Index. "We are honored to be recognized for this commitment, which is inherent in our work to make the world cleaner, safer and healthier," Ecolab Chairman and CEO Douglas M. Baker, Jr. said in a release.
All of this is no small matter. That's why we commend Ecolab for its commitment to safety, both for its employees and for the families of those employees, who are glad their loved ones come home safe every night.