We're pleased to present EHS Insight 19.1.
New Features
New Report Parameter Defaults
The product team has added new report parameters:



YTD Previous Month - Date range covering from January 1st of the current year to the last day of the previous month



Previous 12 Months - A twelve month span where the last month is the last complete month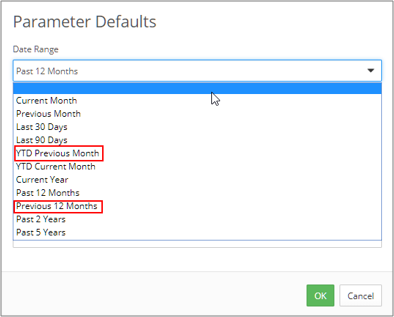 Form Designer: Support for Grids in Document Libraries
Form Designer now supports Parent-Child relationships on Entities with "Publish/Draft" workflow



This new feature also allows Grids, Multi-Pickers and Checkbox lists to be added to Document Libraries
New Reports: Quality Events
The new reports allow users to measure quality events by Location Within Category, Location Within, and record the number of new events
Document Libraries: List Views
We released list views to help users easily find the documents they are working on. New list view options include:



Recent Changes - This option displays the last 100 changed documents



Pending Changes - This option displays any documents with active drafts
Site Setting: Force External Course Window
We added a new site setting which forces SCORM courses to always launch as a pop-up window
Note: Since SCORM is an open standard, some older SCORM packages do not support running "embedded" in our site and must be launched in a second window.
We're Here to Help
With updates as often as every two weeks, we're here to make sure you have the best experience using EHS Insight. Take this latest version for a spin and reach out to our support team if you have any questions, comments, or new feature suggestions. We're at support@ehsinsight.com.