It may not sound surprising, but software like EHS Insight contains a great deal of personal data. Banks, credit card unions and other financial institutions also recognize this and have implemented safer Internet practices for their sites. This includes Transport Layer Security (TLS) and strong cyphers. Whenever you see 'https' and a green lock in your search browser, rest assured your data is safe.
How is your data secured?
As software is implemented by your IT department, an analysis is performed to identify potential risks within your company's infrastructure. Your team should have strict measures in place to help prevent hackers from eavesdropping on your company's personal data. The most common method to help prevent a security breach is connecting your data through a Virtual Private Network (VPN). This ensures that only people who have access to the internal network can manage data. This is a safe approach to data security and it's also used as a best practice in most companies; however, it also introduces the burden of having to set up VPN connections. This may create inefficiencies as you may not be able to perform other work (like check e-mails or schedule meetings) while connected to the internal network. Also, you cannot easily connect to the VPN from home, your mobile phone or tablet.
Wouldn't it be nice if you could combine the ease of use of a regular website with the highest grade security possible? In fact, VPN utilizes encryption to secure the connection, so why use a simpler method of securing a connection?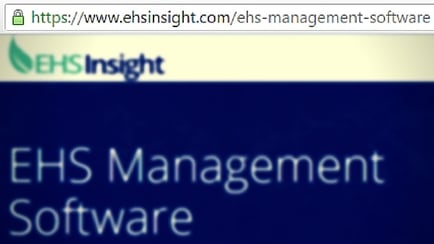 Only those applications that are built as true web-based services, such as EHS Insight, recognize the need for a secure environment you can trust your data with. It has been developed from the ground up, and with the highest grade of authentication and user permission management in mind. All this so that you can focus on the other things that matter the most.
When you choose to go with EHS Insight EHS software, you are all set. It comes with strong and secure encrypted connection support out of the box. For an on-premise installation, know that EHS Insight supports both TLS and VPN. Together with your IT department, we can decide what best fits your organization.
Ease of use
EHS Insight can help your organization set up a secure environment for your data, without locking it down like other systems. You will be able to use EHS Insight at the office, your home or the airport. The great thing is that you don't have to worry for one moment about security because EHS Insight adheres to the highest standards.
Request a demo and get your free trial of EHS Insight today.