We're pleased to present EHS Insight 19.2.
New Features
JSA Site Setting: Roles by Business Entity
The product team has updated the JSA module to include Roles by Business Entity



The new site setting converts all roles for JSA to be based on Business Hierarchy instead of "Global"
Question Set Designer: Support for Between and Not Between
The Question Type function has new Exception Modes: Point Between, Points Not Between, Value Between and Value Not Between



The Visibility Mode includes new options, which can be seen in the image below.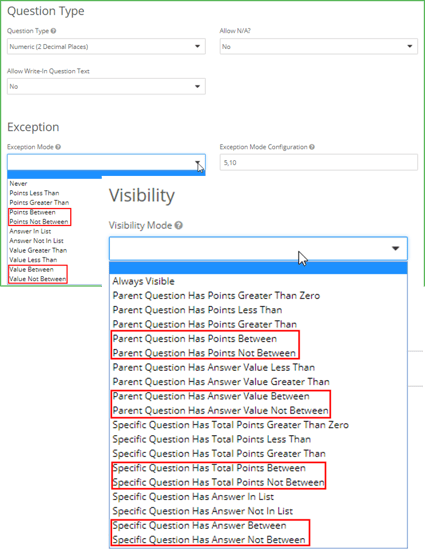 Submit Feedback Screen Improvements
EHS Insight users can now choose to report "Problems," "Suggestions" and "Incorrect Translations"


This will help us collect better information for Translations such as:



"What should change?"


"Why is it wrong?"



"Where did you see it?"
Hazard Identification Site Setting: Default Identifying Person
Previously, the Identifying Person field on the Hazard Identification form would default to the current user, even if logged in as a Kiosk user



The product team has added a new site setting, Hazard Identification - Default Identifying Person, which disables defaulting entirely

We're Here to Help
With updates as often as every two weeks, we're here to make sure you have the best experience using EHS Insight. Take this latest version for a spin and reach out to our support team if you have any questions, comments, or new feature suggestions. We're at support@ehsinsight.com.