We're pleased to present EHS Insight 19.4.
New Features
Vendor and Contractor Management Software Module
The new module provides EHS professionals with a complete solution for managing vendor relationships and risk, contract and document approvals and control of the entire vendor lifecycle.


Allows users to get a complete view of vendor-related data to strategically quantify risk levels through important data points, such as Experience Modifier Rate (EMR) and incident rates.
Learn more about the latest Vendor and Contractor Management Software module.
Email Headers for Non-Production Sites
Allows users to easily identify emails that did not come from their production site. Emails from Sandbox and Trial sites are now clearly identified as test emails.


Left Navigation Bar Collapsing

The left navigation bar used to open or close based on screen size, or a user could click the button to close it on a large screen. If a user closed it, the app would re-open it the next time they browsed within the app. Now, with the new feature, the app remembers if a user has it open or closed and leaves it that way until they click the button to modify the bar.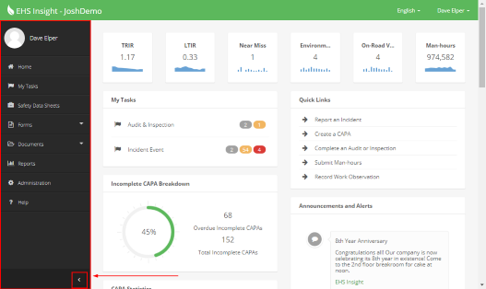 We're Here to Help
With updates as often as every two weeks, we're here to make sure you have the best experience using EHS Insight. Take this latest version for a spin and reach out to our support team if you have any questions, comments, or new feature suggestions. We're at support@ehsinsight.com.