We're pleased to present EHS Insight 19.5.
New Features
Sustainability Metrics by Business Hierarchy
Before, Sustainability Detail forms created for every business entity would always show the same list of Measures. The new site setting Measures Assigned By Business Entity allows users to assign Measures to one or more business entities.
Sustainability by Business Entity Report Category Parameter
Sustainability Measures by Business Entity report now has a Category parameter.


Incident Event OSHA Override

Incident Event OSHA Override now supports overriding additional OSHA 300 column values.


Users can use this when the default OSHA classification based on the other form details such as the Injury/Illness Classification and Third Party fields is not sufficient.


When present, the override values are used on OSHA 300 and OSHA 300A reports.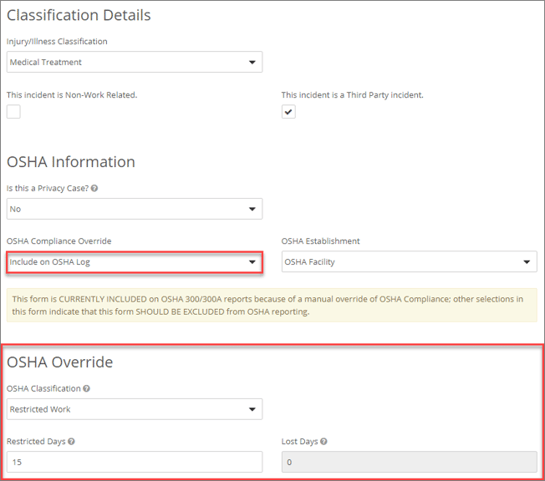 Training and Skills Report Support Disabled Contacts
Training Personnel Record and Skill Personnel Record reports now support disabled users and contacts.



This will allow users to get a training/assessment history of a single person.


Only the history panel will show data on the report as Requirements do not apply to inactive users.


The intent of this change is to be able to proof compliance of people that are no longer with the company.
Dashboard Sparklines Falling Back to Most Recent Data
Dashboard Designer added support for Sparklines not falling back to the most recent series point that contains a finite value.



For example, instead of showing "0" for TRIR because there are no man hours for the current month yet, this feature allows to show the data from the most recent point that did contain a value.
Report Errors Indicate Causes
Reports will now indicate when an invalid Report Designer customization of the report is the cause of a report execution failure.


When a User Defined report encounters a non-network related error, a slightly different error is shown that explains that the report is customized and needs to be either edited or reverted by the users' report administrator.
User and Contact Picker Defaulting
Users and contacts picker fields that default to the current user can now control that behavior via Site Settings.
We're Here to Help
With updates as often as every two weeks, we're here to make sure you have the best experience using EHS Insight. Take this latest version for a spin and reach out to our support team if you have any questions, comments, or new feature suggestions. We're at support@ehsinsight.com.