Slips and falls are common injuries that occur in the workplace. The financial impact of falls in the United States has been estimated at 70 billion dollars yearly. To ensure that work environments are safe for all employees, organizations should include fall protection in their environmental, health and safety initiatives.

Fall protection safety equipment may be as simple as a yellow strap near the end of a ladder, or a red strap at the top, which helps stabilize a straight or extendable ladder when used against a pole or other vertical surface. Other equipment includes self-retracting life lines, a safety harness and other personal equipment which a worker can attach to their bodies to prevent falls.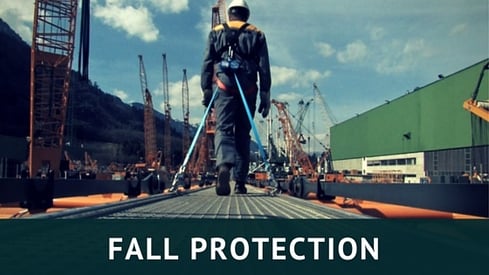 Fall protection also includes more elaborate equipment such as installed systems - guard rails, anchors, tether tracks, rigid rails, portable fall protection structures and of course an assortment of temporary safety and access structures. These might include rails, ramps and other walkways constructed to enable a worker to pass safely from one area of work to another, rather than walking over or around parts being built.

OSHA recommends that employers and site foreman ensure that every floor hole - which could be unintentionally walked into - is guarded using a railing and toe board or floor hole cover. Additionally, it recommends that a guard rail and toe board are installed around every elevated, open side platform, regardless of height. Safety nets, stair railings and hand railings are other suggestions in keeping people safe on the job.